By Sara Vogel
Last week, Global Kids celebrated the addition of two new youth-created geolocative games to our NYC Haunts portfolio, capping off a busy summer.
At The Point Community Development Corporation, participants in the Summer Youth Employment Program created a moving, emotional game that honors the African-American and Native American slaves that were buried hundreds of years ago in what is now Drake Park. Youth were motivated to take action through the creation of a game for change, when they observed that white land and slave owners were recognized with well-manicured and marked plots in the park, while the remains of slaves were scattered throughout the park in unmarked graves.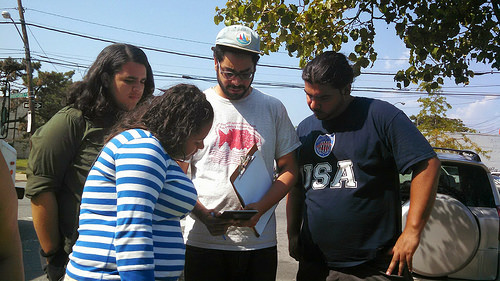 Sheila, second from left, helps three playtesters from The Point access the game on the TaleBlazer app to begin their journey.
In the game, the player must learn and remember the stories of several slave-ghosts in order to reunite them with important objects. In doing so, the player recognizes these individuals' memories and roles in history:
In an alternate pathway, a player must guide a young escaping slave to a safehouse, following clues in the environment, as slaves would have done following the Underground Railroad in the past.