By Sara Vogel
What stories does your neighborhood have to tell?
Global Kids is excited to announce that NYC Haunts — our signature program where youth create a mobile, augmented reality game exploring local history and contemporary issues — is blasting out to three Global Kids schools this Spring! In a pilot project supported by the Hive Learning Network NYC and the New York Community Trust, students at the School for Human Rights in Brooklyn, the High School for Global Citizenship, and Long Island City High School are creating geo-locative games and helping GK educators experiment with and stretch the NYC Haunts curriculum in advance of a roll out at several Global Kids schools next Fall. 
Hive partner organizations the Brooklyn Museum of Art, Exposure Camp, and The Point will also host Haunts pilots this Summer.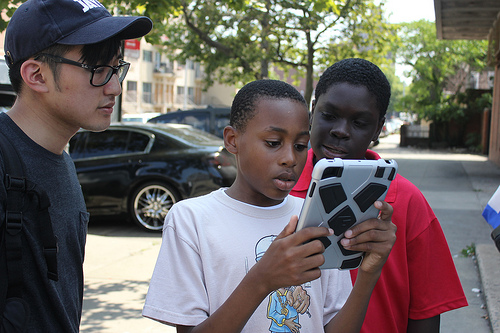 In addition to iterating on past versions of the program conducted in collaboration with the New York and Brooklyn Public Libraries, this year's pilot will test out a new augmented-reality game design engine, 
TaleBlazer
, currently being developed at the Massachusetts Institute of Technology. Researchers and software developers at MIT are closely supporting the program to help Global Kids learn all of the features of the program and help measure student learning outcomes.
The games, which will follow the footsteps of a ghost detective, will engage both game designers and players. Designers create a digital trek through a neighborhood, dropping in clues such as audio clips, videos, and photos, to help solve the mystery and uncover the neighborhood's history. Youth research the ghost's story, the social, environmental, or economic conditions in the city that might have caused its demise, and imagine the steps players can take to help the ghost move on and cease its haunting. In the process, youth learn to research and curate content to help other youth understand the plight of the ghost, explore contemporary issues or a particular moment in neighborhood history and develop their digital media, critical thinking, and communications skills.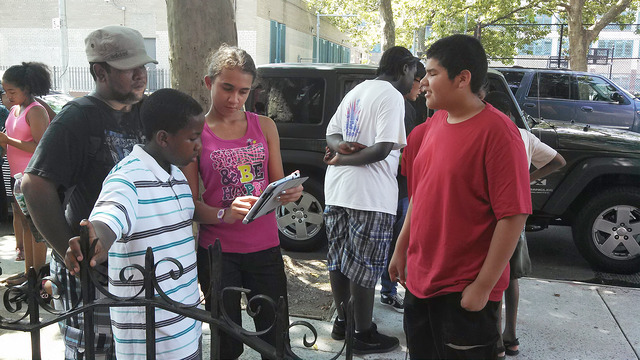 Kylan and Angel, from left, middle schoolers at School for Human Rights, play a location-based game created by Tommy, right, and his classmates at School for International Studies this past summer. Angel and Kylan will create their own game this spring.
We'd also love to share a poem written by Angel (pictured above) after playing a first example location-based game with our NYC Haunts program this January. Enjoy
Today was another average day at GK.
We made a change and saved the Day.
We used our androids our feet and more
To help a dad and drop the ball
The dad we help lost his dog bacon
When we were done home he was taken
I love location based game
because we move around to get to our aim
meet us next time to learn and see more
and be apart of GK down to the core
– Angel, Age 14