By Melissa
Thanks to a generous grant from TimeWarner Cable, 
OLP's 2013 NYC Haunts summer camp is up and running! Middle School students from the School for International Studies came together this week to begin designing a geo-locative game set during the Civil War draft riots in the free African-American neighborhood of Weeksville in Brooklyn.
We kicked off the week with a scavenger hunt in Madison Square Park to learn the fundamentals of location-based games: map reading. Students also enjoyed using the iPads to play their first geo-locative game.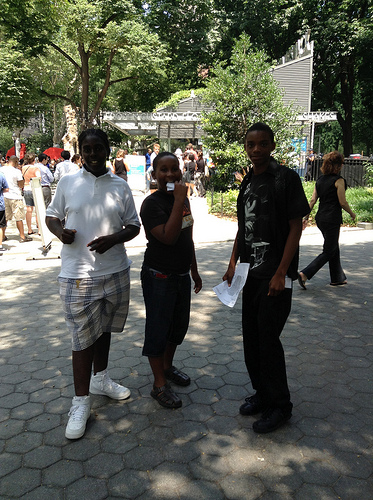 Kenny, Niles, and Robert taking a picture near the Shake Shack, one of the locations in the scavenger hunt.
On the second day of camp, students were introduced to the ARIS game design platform's editor where they practiced putting characters and items on a map and creating their own basic ARIS games. They also learned about the Civil War draft riots that took place in New York City exactly 150 years ago. Each student played a character from the time of the draft riots and made decisions based on who their character was and what they had in their "inventories."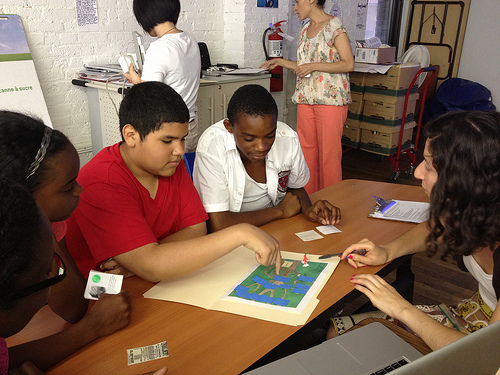 Julisa, Tommy, and Robert playing the Survive the Draft game created by OLP staff and interns Man Cheung and Melissa Salama.
On the third day, the students visited the Weeksville Heritage Center and gathered ideas for characters and locations that could be used in their ARIS game. They learned about how residents of Weeksville might have been affected by the Civil War draft riots.
On the fourth day, students learned that the story in their game would be strong if it included some emotional ups and downs. They picked stories or movies they enjoyed and broke them down to see how the characters' emotions changed, then they brainstormed potential mysteries for their game, identifying characters and locations based on their visit to the Weeksville Heritage Center the day before. Each student contributed to the storyline, excited to see it all come together.

Next week brings a whole new set of game design activites based on what students learned this week. It's crunch time: the final playtesting day is next Thursday!