By Sara Vogel
​
This winter has been a busy one for the middle school game designers at Global Neighborhood Secondary School and New Directions Secondary School! Students finished using the tool Gamestar Mechanic to create games about a range of topics important to them — from bullying to drug abuse, animal abuse, and pollution — and then invited friends, teachers, Global Kids staff, and administrators to playtest them at an end-of-year celebration.
​
Middle school "MC's" conquered their fear of public speaking and introduced the design process they followed in order to create the games. They detailed how students brainstormed, prototyped, and used Gamestar Mechanic and the iterative cycle to bring their games to life.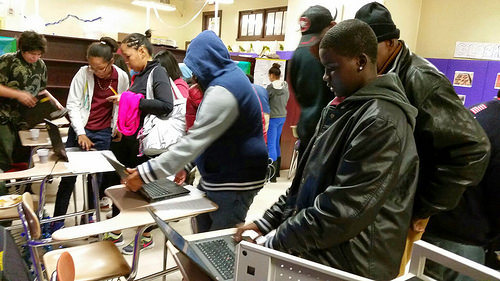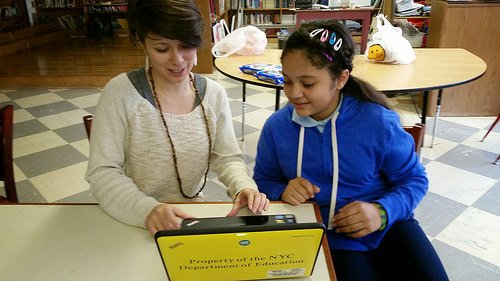 At Winter Playtest Expo events, Global Kids youth game designers at NDSS and GNSS asked their parents, teachers, GK facilitators, and friends for feedback on the games they created.
In the new year, students in the game design clubs at these schools have begun to think like computer programmers. They have been diving into the tool Scratch to complete simple programs and animations, learning the basics of coding along the way.
In keeping with Global Kids' mission to integrate global issues and ideas into the curriculum, students have been exposed to world current events and have expressed interest in creating a game this semester about women's education/the kidnappings in Nigeria, the Ebola virus public health crisis, or the detention of undocumented immigrants in the United States.
In the coming weeks, youth will decide which topics to focus on, and the design process will begin all over again!
Special thanks to New Directions Secondary School, Global Neighborhood Secondary School, and the Global Kids trainers on-site at these schools.