By Barry Joseph
This past friday, Global Kids was thrilled to host the first meeting for the new Hive NYC Badging System. Two dozen members of our local learning network had expressed interest in learning more about the system, amongst which 22 participants came from sixteen of the organizations:
American Museum of Natural History, Bank Street College, Brooklyn Museum, Brooklyn Public Library, Common Sense Media, Cooper-Hewitt, National Design Museum, DCTV, DreamYard, Girls Write Now, Global Kids, MOUSE, Museum of Modern Art, Museum of the Moving Image, Museum for African Art, New York Hall of Science, New York Public Library, Parsons The New School for Design, People's Production House, The Lamp, THE POINT CDC, Wildlife Conservation Society, WNYC's Radio Rookies, WorldUP, and YMCA of Greater New York.
In short, we talked about the current interest behind "badging systems" as a form of alternative assessment and youth engagement, explored the nature of our current grant from the MacArthur Foundation, and then discussed next steps and the various roles each organization could play. Many left with a great sense of potential and excitement for the impact this will have on youth across our city.
We started the meeting, and introduced badges, by doing a go-around asking everyone to do one of the following: "Please share something you learned growing up that has since helped you in your life but you didn't know you possessed at the time" "Please share something you knew you possessed but had no way to demonstrate to those in 'authority.'" Everyone had something to share, and it would have been easy to go another round. We then asked everyone to imagine how their lives might have been different if they had fully appreciated their hidden abilities, or been able to share those abilities with people who counted.
That, in many ways, is what we hope badging systems can offer to youth served by our programs: a deeper understanding of their abilities and a new way to leverage that knowledge to reach for their dreams.
I was also struck by the graph we shared at the start of the meeting. In response to the question, "How would you describe your organization's current relationship with digital badging systems?", we received the following responses from the participating organizations:

35% – We have run or already run a badging system (or something like it)

40% – We have never run one, but have described one in a proposal or a visioning document

25% – We have never gone through a process to create one, but are interested in learning how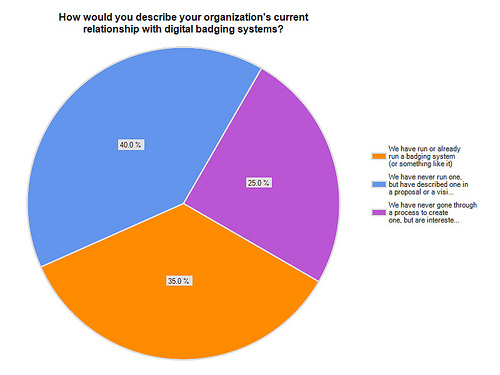 We were pleased that the concept had attracted such a wide diversity of experience with badging systems. But what surprised us the most is that experience did not necessarily match with expertise. With most any other topic – say Social Media, or Global Literacy – those who are more engaged with the topic tend to know more, separating the "experts" from the "newbies." That was not always the case at the meeting.
One organization that had previously offered digital badges minimized their past experience, unable to rely on it to guide them towards something more robust.
One organization that had never run one but had proposed one to the HASTAC competition still had no confidence that what they had described was even valid (as other than a rejection, they had received no other feedback).
One organization who was interested in learning how to develop their own badges for the first time had come to the meeting to learn best practices. Without minimizing the expertise that certainly filled the room, across the board if was hard not to respond, "There are no best practices, as of yet. Whether you've previously built a badging system, described one in a proposal, or are totally new to the process, we all get to work together to develop best practices." And that level of collaboration, working towards the high bar set by the HASTAC competition within which many Hive members so recently competed, is one of the key things this new grant will allow us to support. How exciting to get to work together with such creative individuals and powerful organizations to develop and implement such nascent practices.
After the meeting, we spoke with one academic about the research opportunities available within this emerging badging system and the practices which support and surround it. How are we forming our badge design principles? How can that process, led by practitioners, be informed by evidence-based research produced in Universities? How do we use badges to build a learning pathway for youth to navigate learning throughout our city? How will the system developed in New York differ from the one being developed for Hive Chicago? There is so much for us all to learn.
Below you will find some of the material produced for or about the meeting and its next steps. (Some are already available and some will be added when they become available.)  

Photos: A set on Flickr.

Screencast of the presentation portion (coming soon)

A pencast with notes of the whole meeting (coming soon)

A public Google Site to coordinate the process (coming soon)