By Sara Vogel
A new 
report
 out this week from the 
National Summer Learning Association
 features the work and reflections of Global Kids' two teaching fellows, Andrew Adler and Scott Neagle, who came on board as part of a partnership with NSLA this past summer. The NYC Dept. of Ed teachers became part of our team, co-facilitating and co-planning NYC Haunts and Playing for Keeps workshops in order to learn GK OLP's best practices for guiding youth through connected learning experiences — practices they will take back to their school communities.
Scott Neagle, a summer NSLA fellow and a teacher at Bard High School Early College Queens, works with Playing for Keeps middle schoolers to design their game, Pollution's No Illusion.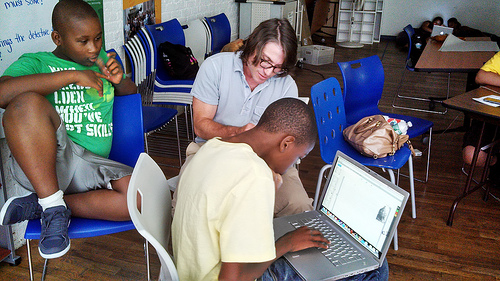 NSLA fellow Andrew Adler supports students as they complete research for their geo-locative game about the Civil War Draft Riots.
In the report, Adler and Neagle share their take-aways about working with youth in non-classroom environments, the new digital tools they explored, and the importance of educators taking on the role of "life-long learners." Also showcased is a video conversation with Ben, a student who took part in Playing for Keeps, who when asked what he learned about himself during the game design program, said, "that I'm good at it."
Thanks to the MacArthur Foundation for their support of this worthwhile partnership with NSLA!