By Sara Vogel
Since 2002, youth have worked with Global Kids staff and game designers to develop games that address global social issues. This year, we're broadening the reach of our signature
 Playing for Keeps program, as we partner with the Department of Education's Digital Ready initiative to use 
social impact game design to 
equip students at collaborating schools 
with the digital literacy and communication skills they need for college and careers.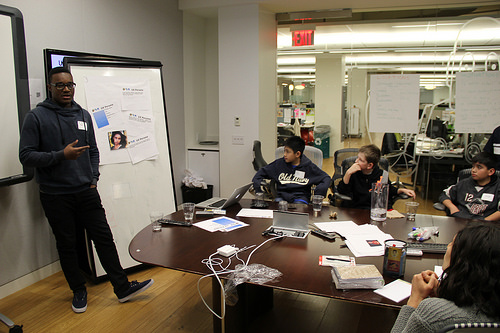 Sean, of Hudson High School for Learning Technologies presents the user-persona he and his group developed during a recent P4K field trip to meet professional designers at the BrainPOP offices.
Students from 
three Digital Ready high schools 
— Satellite Academy, Hudson High School for Learning Technologies, and Fannie Lou Hamer Freedom High School — attend weekly workshops where they put game design vocabulary and concepts into practice using tools such as Gamestar Mechanic and Scratch. Students also conduct research on a topic they care about. As they create their games about global social issues, youth integrate S
TEM concepts they learn in the classroom into the iterative design process, learn to work as part of a team, and facilitate their own workshops.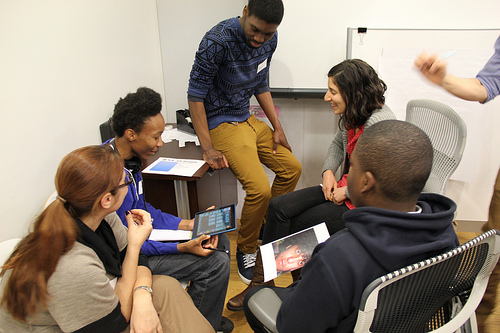 Another group of P4K youth (including 2013 alum, and former BrainPOP intern, Kendell, and Satellite HS student, Garai) prep their presentation at the BrainPOP offices.
As part of the initiative, Global Kids is working with educators at the three schools
to align Playing for Keeps curriculum to state learning standards; possibly allowing the 15 participating students to receive academic credit for creating their games and teaching others about game design back at their schools and at other venues. 
​