Iram J.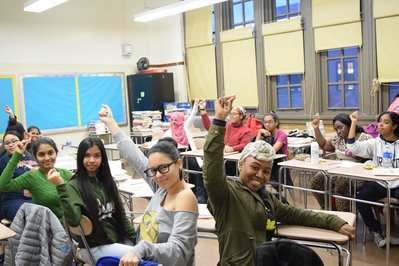 Students at John Adams show off the signature pose they came up with for our Girl Hack club!
Senior Trainer

This week, students in our Girl Hack programs at John Adams High School and William Cullen Bryant High School in Queens finalized the topics for their end-of-year projects, their Games for Change. Girl Hack is a program for female-identifying high school youth who are interested in using technology and gaming to shed light on issues that girls and women face. Each of our students will be creating a game in Scratch, an online block-based coding tool. Their games, in addition to being fun, will raise awareness about a global women's issue to be a "game for change."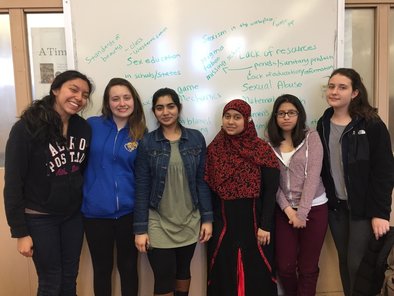 During our sessions this week, the girls sat down to map out an initial brainstorm for their final games. This activity was an exciting moment for our students and for the GK staff who have been supporting them through the game design process this school year. We've been building up to this stage of the design process since September when we introduced game design theory and first began exploring a range of global women's issues. Some of the topics that have been covered in our program include global standards of beauty, representations of women in advertising and media, access to education, child marriage, reproductive health, sexism in the workplace, and the stigma around menstruation.
Students completed a worksheet to guide them in their brainstorm, which prompted them to think about the elements of a game (goal, space, rules, components, mechanics) and what their game's story will be.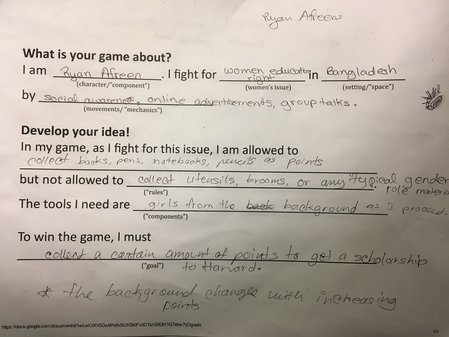 10th grader Ryan from Bryant will be designing her game around the issue of access to education for girls in her home country Bangladesh. Her main character's weapon will be educating others.
Through their games for change, Girl Hack-ers are employing computational thinking, coding skills, and critical thinking skills, to come up with ways to "hack" the lifecycle of a girl/woman. We spent the first half of the school year exploring issues that females face at different stages in life, from early childhood, adolescence, adulthood, and as elderly. Now our students are coming up with engaging topics for their games that will not only bring attention to important, and often overlooked, issues but will also convey creative solutions and "life hacks" to some of these issues.
What I have found to be one of the most powerful parts of Girl Hack is the fact that our students are using male-dominated tools like coding, technology, and gaming to bring awareness to girls' and women's issues, and I know that our Girl Hack-ers are eager to prove that game design is not only "for boys."

​If you'd like to see the amazing work of our students, join us at Emoti-con on June 17th! Emoti-Con is NYC's biggest showcase for young designers, technologists, and makers who use digital innovation as a tool for positive change in the world. Girl Hack students will be displaying
 their final projects.
RSVP here
!