By Myles Bittner, GK Intern & Elizabeth Bishop, Supervisor of DLL
Last week, the NYC Department of Education hosted a Computer Science For All (CS4ALL) Professional Development Institute and the Global Kids Digital Learning and Leadership (DLL) team was invited to present a
Scratch
workshop series entitled "Historical Heroes" that can be used in any K-12 classroom. This four-day training brought together a wide array of public school teachers who devoted their valuable time to learning how to gamify their classrooms by integrating Scratch and tech tools like
Makey-Makey
into their teaching curriculums. DLL trainers, Marcus and Matthew, used a social studies based theme as an entry point to invite teachers to embody the Perspectives of Computer Science: the Explorer, Creator, Innovator and Citizen. More information about the CS Perspectives can be found on the
CS4ALL Blueprint
.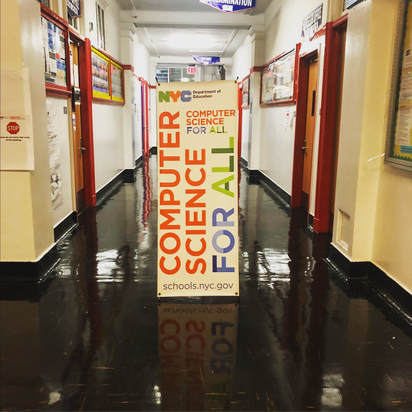 Over the course of the CS4ALL PD Institute, teachers selected historical figures such as Harriet Tubman, Langston Hughes or Marva Collins to gamify a lesson around a particular narrative event that reflected best practices around student choice and culturally relevant learning. This dynamic and multi-layered series of lessons showed the capabilities and creative possibilities inherent in using Scratch in the K-12 classroom. These real world examples allowed participants to critically engage with issues that resonate with a wide range of students, echoing the CS4ALL mission to focus attention of CS education for female, black and Latinx students in NYC public schools. Marcus and Matthew led a series of workshops that simulated the ways that teachers could introduce coding, computational thinking and computer science technologies into their project-based lessons and units. From general information about block-based coding to high-level discussions of core CS principles, the environment was engaging and collaborative. These workshops got the teachers acting, creating and dialoguing about pertinent issues that students can address while using Scratch.
At the end of the week, participants were able to use their own GK passports as a symbolic representation of entering the realm of computer science skills. This created many opportunities for the integration of concepts taught throughout the week, providing multiple entry points for how the teachers could include them in future lessons. One participant stated:
​
"My experience as a learner in this CS4ALL Institute has been somewhat difficult but also interesting. Prior to this Institute I did not have any experience nor interest in video gaming or the process in which video games are created and how we can gamify content to increase rigor and engagement. I've now started to begin thinking about how I would be able to incorporate the concepts learned to future units for the next school year."
Another participant noted:

"The experience has improved my understanding of the concepts and refocused my thinking on ways I can use CS projects in other subject areas."

One participant who came to the workshop with no prior knowledge of Scratch reported:

"
Day 1 I felt like I was thrown in the deep end, Day 2 I was floating and gaining a much better feel of the environment, Day 3 I felt comfortable and ready to implement concepts and practices, Day 4 I am fully in and can use the tools in my toolbox!"
By the end of the four days with the GK DLL team,
60%
of teachers with no or little comfort with Scratch moved to comfortable or pretty comfortable.
40%
of teachers with prior knowledge of Scratch also advanced to pretty or very comfortable.
​
The creation of these historical figure prototypes displayed the possibilities of games-based platforms such as Scratch and how these can be used in various ways to communicate many educational concepts in engaging ways to young people across K-12 classrooms. From social studies to mathematical grids, it is an extremely flexible program and using lessons like those created by the GK DLL team, it can be a powerful tool in any teachers' bank of resources.