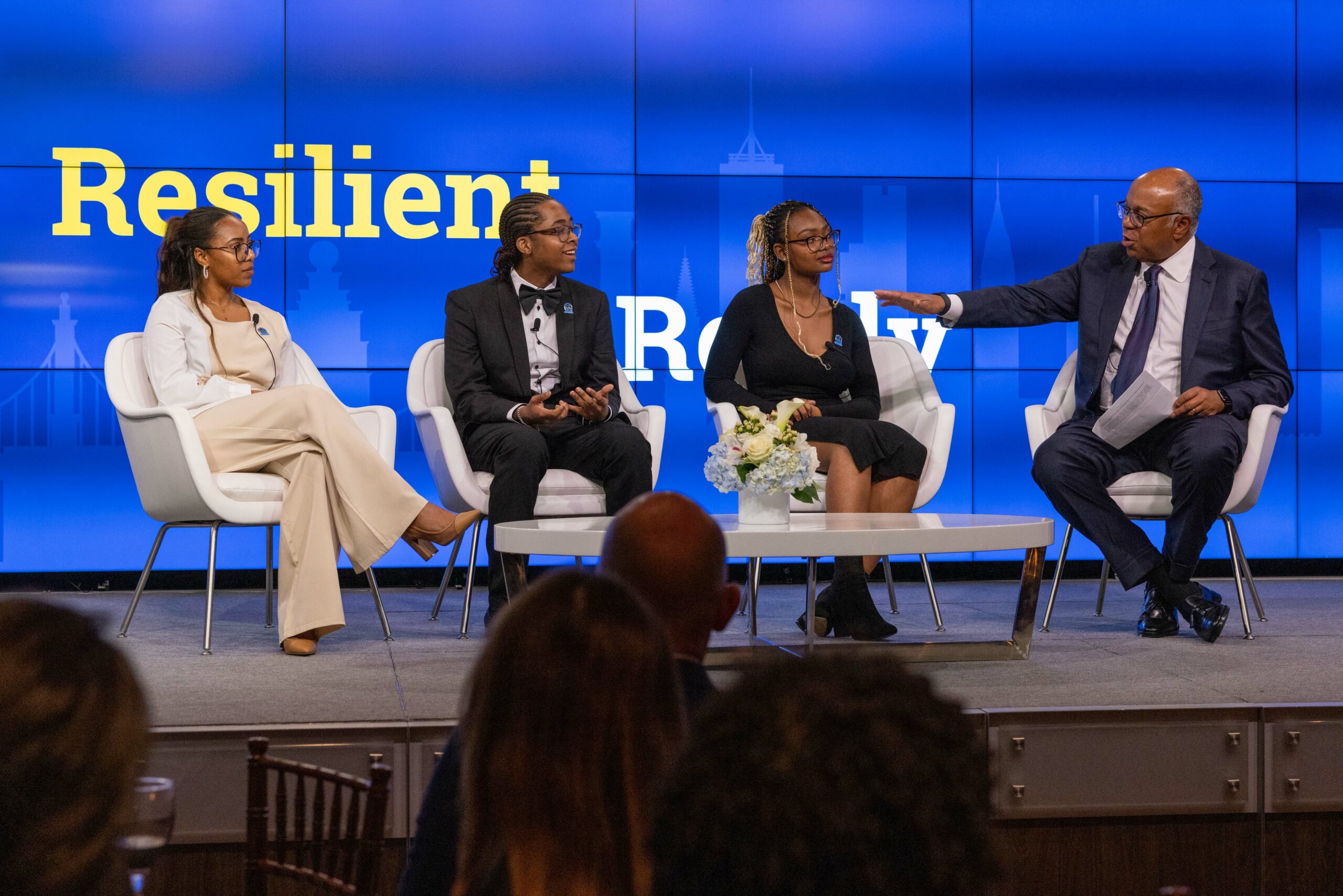 GK Student Ambassadors Join Call to Action Against Climate Change at COP27 Conference in Egypt
This year, two of our GK leaders traveled to the coastal city of Sharm El Sheikh, Egypt for COP27, this year's iteration of the UN's annual conference on climate change. Mohamed and Yohany spent the week attending and participating in press conferences, panels, workshops, and more, with plenty of opportunities to see the sights, network with leaders from across the globe, and speak out against our current climate crisis. Yohany spoke on the "Partnership for the Sustainable Development Goals" panel, and the students met and learned from other youth activists.
Mohamed Alhuthaifi, a senior at International High School at Union Square in New York City, has served as a Global Kids Human Rights Activist Project member and was a Global Kids Leader at the Council on Foreign Relations US in the World Summer Institute. → Click here to read Mohamed's blog post about his experience at COP27.
Yohany Meneses is a senior at Union Square Academy, following her passion for advocating for global and local issues to COP27 in Egypt, her second conference as a GK Leader. She began her activism work in the 6th grade and has continued to build her leadership skills through her involvement with GK. → Click here to read Yohany's COP27 blog.  
---
Students Explore College Options at New York Urban League's HBCU Fair
On Saturday, November 12th, 20 students from our Bronx school sites attended New York Urban League's 35th Annual HBCU Fair at Riverbank State Park. Students learned about post-secondary options and met with admissions professionals from Historically Black Colleges and Universities from across the country. Four of our participants were admitted to colleges and awarded scholarships on the spot! West Virginia State University, Tougaloo University, Virginia State University, Wilberforce University, Norfolk State University, and Johnson Smith University, among others, have extended acceptances to GK high school seniors.  Thank you, NYUL, for hosting our kids and thousands of young people from the Tri-State area.
Even Executive Director Dominique Jones, a proud HBCU alum, got in on the fun! 
---

Global Kids Launches Its First Racial Justice Institute
Grounded in a human rights framework, and inspired by the 1619 project, GK's Racial Justice Institute gave a select group of student leaders the opportunity to explore racial justice policy through a journalistic framework this fall. The weeklong institute, held November 7th – 13th, included workshops, teambuilding exercises, leadership development, an expert speaker panel, an action project using digital media, and a trip to Philadelphia. Workshops covered topics such as Economic Justice, Voting Rights, Environmental Justice & Healthcare, Criminal Justice & the School to Prison Pipeline. Through these discussions, student participants explored modern movements for racial justice as well as the special role youth can play in advancing racial equity.
The Institute concluded with a trip to Philadelphia, where students participated in a college campus visit at Cheney University, an HBCU, for their open house!
---

GK Alums Awarded Inaugural Carole Artigiani Scholarships at the 2022 Annual Benefit
Our 2022 Annual Benefit took place on Tuesday, November 1st at the Council on Foreign Relations in Manhattan. Supporters of GK gathered to celebrate our mission, raise vital funds for our youth programs, and posthumously honor Secretary Madeleine Albright with the 2022 Global Citizenship Award for her contributions to international peace and democracy. The event also honored NIKE, Inc. with the 2022 Corporate Leadership Award for their Black Community Commitment. Click here to view photos from the event.
Special appreciation to our board, host committee and staff who were instrumental in making the evening a great success.
Our Scholarship Recipients
During the event, two very special GK alums were awarded the first ever Carole Artigiani Scholarships. We are delighted to recognize our founder Carole Artigiani by naming the scholarship in honor of her decades-long commitment to educating, activating, and inspiring our students to take action on critical issues facing their own communities and those around the world. The newly established fund will help to solidify the important role that Global Kids plays in preparing our students for college and helping provide support to students in that crucial initial year of college.
Jillian Lewis  – Rutgers University – Jillian (she/her) is currently a student at Rutgers University's School of Public Affairs and Administration. She hopes to one day advocate for people experiencing housing insecurity as a housing lawyer, university professor, and/or researcher specializing in the field of housing injustice and urban design.

Anthony Willis – University of Delaware – Anthony (they/them) began participating in Global Kids Washington, DC programs in the 10th grade and was a strong participant online throughout the pandemic. They now attend University of Delaware, where they plan to major in Social Work.
–
WATCH: Students speak about how GK has impacted their lives.