By Daria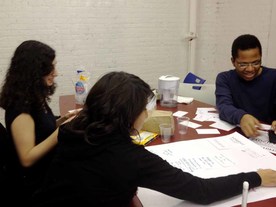 Last Friday we kicked off our first meeting for this year's Emoti-Con! planning committee, called the Youth Action Team or A-Team.
Emoti-Con! is an annual youth digital media and technology challenge, now in its third year. On June 2, 2012, over 150 New York City youth from programs throughout the five boroughs will gather to showcase digital media and technology projects designed for the betterment of the world, be inspired by their peers, and meet professionals in the field. Youth will compete for awards in multiple categories, including most innovative and best potential for social impact.
The A-Team is comprised of a group of high school students who will be helping to plan Emoti-Con! Some of their tasks leading up to the event will include: setting the agenda, choosing guest speakers, promotion and outreach, and designing a youth-led workshop.