By Sara Vogel
Twenty-five youth from around New York City. A problem to solve through the design of a digital tool. Cash prizes at stake.
That was the set up for yesterday's That Could Be Your Sister Design Challenge, held at the Brooklyn Public Library by Global Kids and WNYC's Radio Rookies. The youth – many of them affiliated withBPL's T4 program and several from GK and Rookies – listened intently as 17-year-old Temitayo Fagbenle played a radio story that she had reported last year about "slut-shaming" on online social networks, or as she and producer Courtney Stein wrote, "using photos and videos to turn a girl's private life inside out." She challenged the group to propose an idea for a digital tool that could be mobilized to support victims, raise awareness or collect data about the issue.
Hive NYC's Julia Vallera presented a menu of digital tools for students to consider integrating into their designs; from apps to text messaging campaigns. "There are no limitations" she said. "Think outside the box." With that, the students were off in their groups — drawing, writing, and brainstorming their way to digital solutions.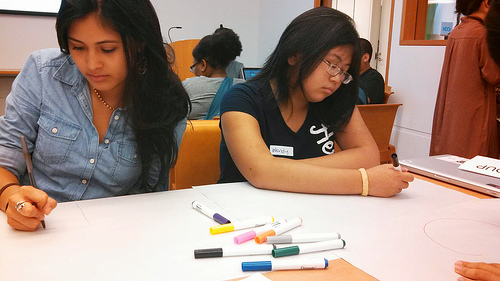 During the presentations, the four judges — Jess Klein and Atul Varma from Mozilla, Erica Doyle, Assistant Principal at Vanguard High School, and Jasmine Hood from Common Sense Media – were treated to five stellar pitches for new digital tools. One group dreamed up a website that followed a human body metaphor – the mouth would link to a section to help victims speak out, the ear to a section for listening to testimonials, and "tears" collecting at the bottom of the screen would contain words of inspiration and support from the community. Another group decided to place QR codes in locations that teens frequent the most in order to direct them to the campaign website. The "Insert Title Here" group's proposal included a "choose your own adventure" game that would guide players to make choices in scenarios of sexual cyberbullying. The "Tech Geeks" team won with their idea for an informational website and an app that victims would be able to use to report offensive photos and seek the support of specialists.
While everybody couldn't walk away from the competition with a gift card, the rewards of the program went far beyond. In an email to GK's Juan Rubio, one student wrote about how he'd love to continue learning Photoshop, something he began to explore during Thursday's event:
"Gracias por toda su ayuda y aunque no ganamos, ganamos porque aprendimos mucho de cyberbullying y también de tecnología. (Thank you for all of your help, and even though we didn't win, we won, because we learned a lot about cyberbullying and also about technology).
Thank you to Project:Connect and our panel of judges, Brooklyn Public Library's Jen Thompson and Jackson Gomes, and WNYC Radio Rookies' Kaari Pitkin, Courtney Stein and Sanda Htyte.
For more coverage of the event, check out SchoolBook!
Freelance producer Karen Duffin also produced a radio piece about the event, featuring OLP's very own Jack Martin and Juan Rubio!