By Barry Joseph​
This past week has been a veritable badge-a-palooza. The only reason we had four separate badge meetings was because the fifth was postponed for a week when an earlier meeting ran over.  Phew!
Global Kids' Youth Badge Advisory​
Last Thursday, Daria and I were so excited to launch the first meeting of the GK youth advisory. This group will ensure that GK youth leaders are playing a key and substantive role in the development of the GK badging system.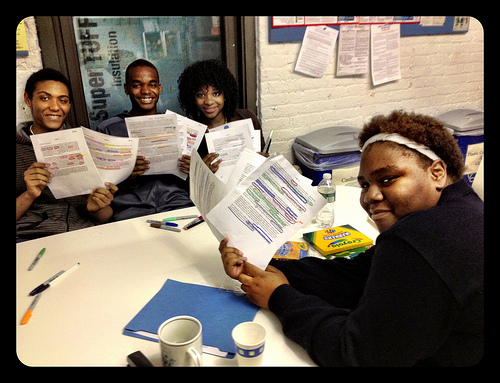 After learning about digital badging systems and what GK has planned, they were ready to get down to work. We started with four dozen or so Global Kids Letters of Recommendations (with names changed to protect the innocent). Following the model we had developed earlier in the month, the youth color labeled the letters to identify whenever a GK staff member mentioned any of the following categories of learning: hard skills, soft skills, knowledge, participation in a GK program, and roles. When the youth finish this part of the task, they will be entered in a spreadsheet where, together, we will analyze the results and see if they suggest any GK-wide badges that should be incorporated into the badging system. 
It was hard work, and tedious at times, but they appreciated what they were learning and said they were motivated to keep at it when we meet next week. 
Hive Chicago Badging Meeting
Yesterday, on Monday, Joliz and I traveled to Chicago for our first meeting with the Hive Chicago Learning Network to explore the development of a community-wide badging system. There were people there from most of the member organizations who expressed interest in getting involved: 
Agape Werks, Art Institute of Chicago, Chicago Architecture Foundation, ChicagoQuest Schools, Chicago Shakespeare Theater, Common Sense Media, Free Spirit Media, Museum of Science and Industry, Now Is The Time, Office of STEM Education Partnerships, Northwestern Univ., Project Exploration, Shedd Aquarium, and the YMCA Black and Latino Achievers Program
They were superengaged and asked deep, provocative questions throughout. It became clear early on that, as we had all suspected, Hive Chicago is in a very different position than Hive NYC, when it comes to badges. Hive Chicago is a younger, smaller Network, so there are less organizations interested in a badging system. However, as this means they are small enough where "everyone knows your name," this potentially supports a closer and deeper level of collaboration. It might be a gross generalization, and might not hold up over time, but Hive NYC members have focused more on how each organization can use the collective badging system while Hive Chicago are considering flipping the frame, in which badges are not designed around organizations and their programs but, rather, around competencies shared across the Network. For example, rather than different members building their own badges with similar content, in essence rebuilding the wheel, they might collaborate to build one badge around that same content and share accreditation responsibilities. It is an interesting shift and we'll watch how this plays out. 
Hive Chicago also differs from New York in another other key way; while there is more previous and current experience with badging systems in NYC (e.g. two of the HASTAC competition winners were from Hive NYC, and none in Hive Chicago), those involved in Chicago are invested in two separate badging technical solutions, both currently under development. How can these two (can we say?) legacy systems interact with the new model – will they collaborate, or must some give way to make room for the others. Again, only time will tell.  
The meeting left with perhaps more questions asked than answered (a sign for us of a successful meeting), and a number of clear next steps about how we can approach them together.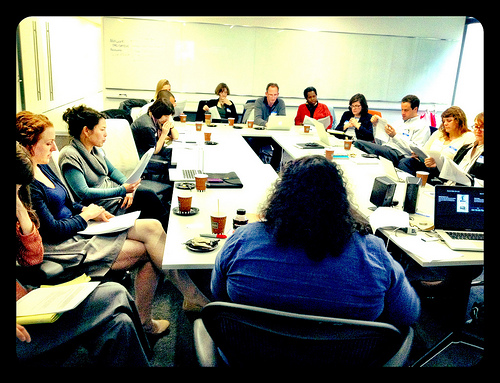 Hive NYC Badging Meeting
Last Friday, Global Kids hosted the second meeting for the new Hive NYC Badging System. Around twenty members of our local learning network attended the meeting. 
After introducing ourselves (and sharing something we've each learned in recent weeks that we thought worthy of a badge), we had presentations from three Hive members talking about their upcoming plans for badging systems.
The YMCA went first. They talked about their plans to introduce a badging system to encourage and certify healthy physical activities.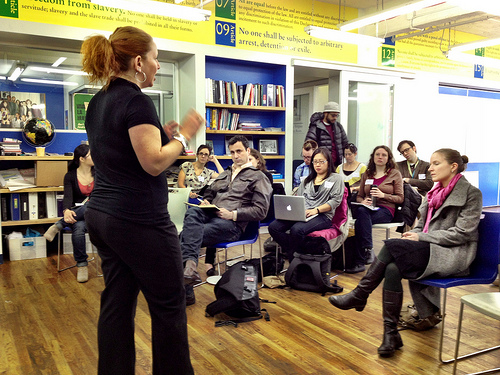 The American Museum of American Museum went next, presenting the presentation they gave in the recent HASTAC competition.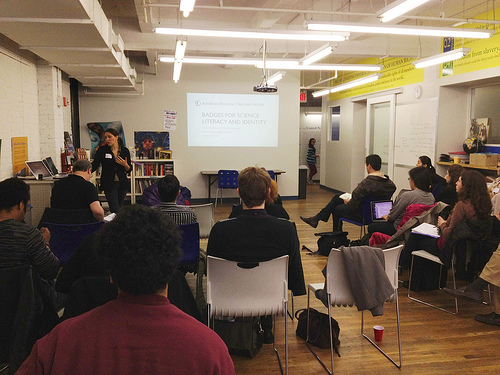 Finally, Global Kids released the plans for its badging structure, based on four types of achievement badges and one role badge (see below). 
After the presentations, John Walber from Learning Times gave a demonstration of the BadgeStack system, which will be the technical core of the Hive NYC Badging System. Many asked to see more details about the back-end of the system, so a Webinar will be held, open to all within Hive NYC, to give a tour of the backend later in May.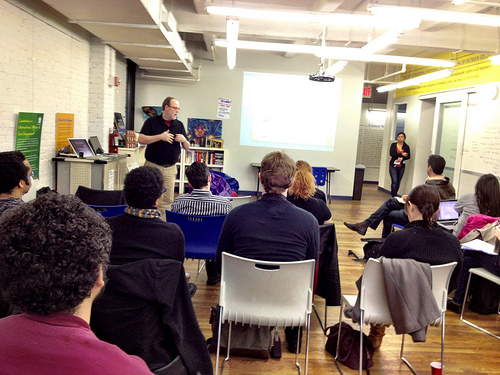 Global Kids' B-FAT (Badge Fast Acting Team)
B-FAT is the small group of senior staff who meet every two weeks to review progress and make key decisions in our GK badge development process. We meet last Thursday and approved what we have been informally calling, for lack of a better term, a GK Badge Design Schemata, which offers a visualization to explain the way badges will be development for the GK badging system. It was well received. It raised questions right away about how this process will formally establish standards across the organization. For example, if you run a program, and define badges youth can earn through the program, you now better make sure your lesson plans over the year actually create opportunities for youth to learn the skills related to those badges. 
We designed a system that structures the system into four achievement badges, which may be combined to achieve a role badge. The four achievement badges, as mentioned above, are hard skills, soft skills, knowledge, and participation in a GK program or the badging system. So, for example, youth in a GK gaming program might receive a badge for game design (hard skill), collaboration (soft skill), game design terminology (knowledge), and Being There (they have been to at least 90% of the meetings); these badges, combined with a variety of others, unlocks the mission for the Game Designer role badge. Some of the badges offers their own power-ups, some about the badging system (certifying other Game Designers) and about GK (getting to attend conferences).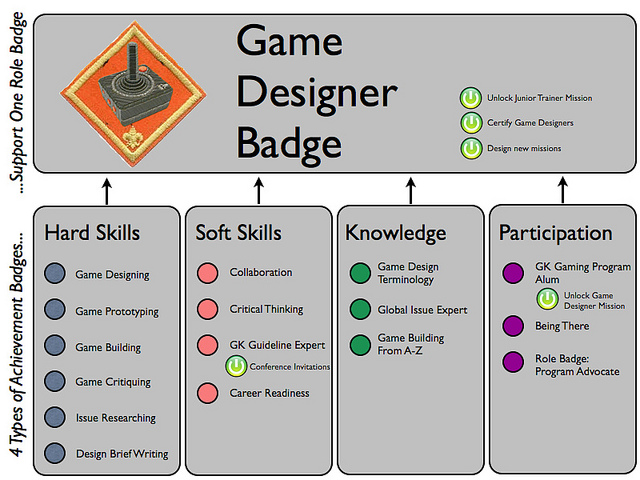 We built out the model for three different programs (around three different role badges) and then developed a visualization to show how these collections become different paths, or lens, directing youth through the full collection of GK badge offerings. 
​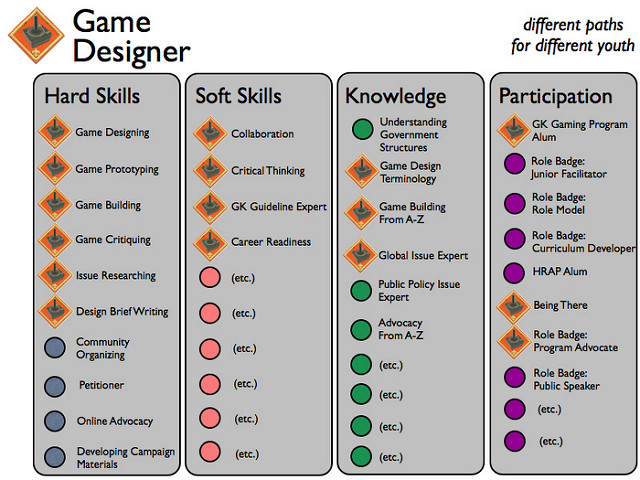 ​
This has all come together rather quickly, but the work being done with the GK youth, with the letters of recommendation, and with the other GK advisory, all lends credibility to this approach. Next steps are to work with particular GK programs to develop their own role badges and continue to develop GK-wide badges.