By Sara Vogel
What would Jackie Robinson say to the people who currently live on site of the field where he broke the color line in major league baseball? 
How did a Queens mobster contribute to the history of Long Island City?
How did people react to shootings that happened in Wingate Park in 1997?
These are just some of the questions being pondered by youth game designers at the School for Human Rights, Long Island City High School and the High School for Global Citizenship as Global Kids' NYC Haunts program kicks into high gear.
At HSGC, students have decided to situate their geo-locative game on the site of what was Ebbet's Field, where the famous Brooklyn Dodgers played baseball decades ago. Students are channelling the "spirits" of the players who supported and those who were reluctant to support Jackie Robinson as he became the first African-American to play on a major league team.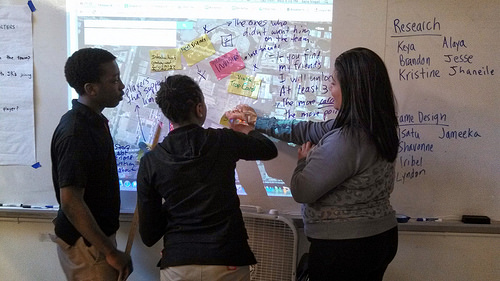 They have been making decisions about their game's structure, determining that players will walk around the site, collecting virtual baseball cards each time they make key decisions related to Jackie Robinson's experiences. They are also using the "land mines" functionality of the TaleBlazer program to insert what they are calling "trap cards," random agents that will attempt to steal pre-earned cards.
NYC Haunts at Long Island City High School in Queens kicked off in early March where students shared their best ghost stories and paranormal experiences. The conversation eventually shifted to a discussion about this history of the Long Island City and Astoria neighborhoods. Students wracked their brains, trying to think of some cool historical facts about the area, but quickly referred to Wikipedia as they realized they had some serious fact-finding to do. They learned that Frank Costello, one of the most infamous mob bosses in American history, was buried in Astoria. This and many other great historical questions are being considered for LIC Haunts' geo-locative game concept.

Players of the game being created by SHR middle school students will have the opportunity to walk around Wingate Park collecting the testimonies of witnesses and victims of distant and recent gun crimes to raise awareness about this issue in their neighborhood and to provide safety tips and ideas for solutions.
​
First, participants brainstormed topics and ideas for their games: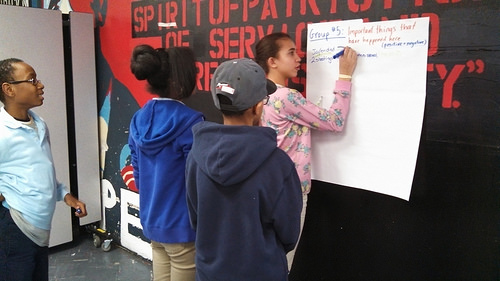 After picking a topic, they did some research with educators from the Brooklyn Public Library to collect stories and ideas.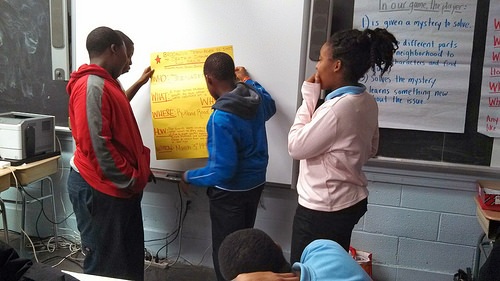 Inspired by the articles, their own experiences and perspectives, they created characters and created a trajectory around the playground for the player to navigate.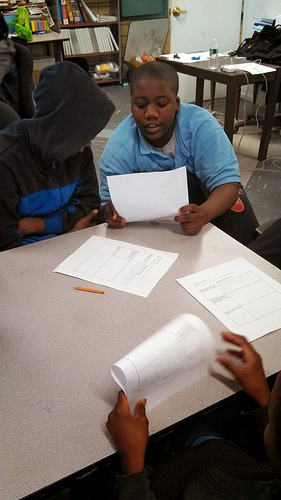 Most recently, they used a paper prototype to showcase and refine their ideas.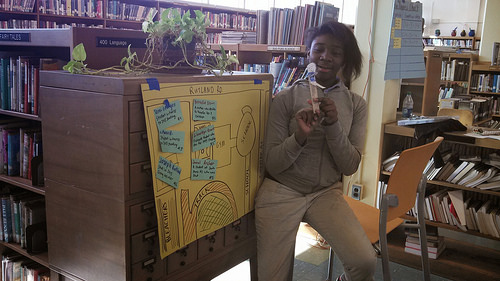 With just a few weeks left to the school year, students will be finishing up their prototypes and will start coding and playtesting their games. We are excited to share them with our communities!