By Marcus Del Valle (DLL Trainer) and Matthew Wallace (DLL Trainer)
The DLL team had a busy first day of CUNY Games Conference 2018. Bishop, Marcus, and I led three consecutive events in the afternoon! The first was a panel on the tech tools DLL uses in its programs and how these tools contribute to college readiness for young people. I particularly enjoyed talking about Scratch and the amazing games that my students have made to represent issues important to them, including such serious topics as racism and sexism. The second event was an activity called RatRaceEDU, where we led teams to compete in a relay race to grab items symbolizing a "good life" with movement limitations placed on them based on a hypothetical level of education. It's always fun to see how adults react to the GK experiential learning model, and the group didn't disappoint– the activity was followed by an insightful discussion on barriers to academic and professional success in society. The final event was an "arcade," in which participants were able to play some of my students' Scratch games. All told, the day was a great success. I'm always pleased to see that the work DLL is doing is so well received in New York's youth development community.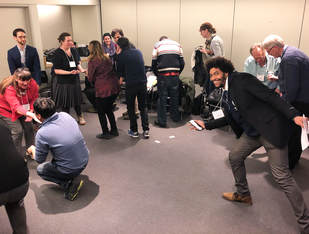 Day 2 was a day of learning that took place at Borough of Manhattan Community College's Fiterman Hall. I attended a six-hour crash course on Unity, a powerful game development platform, to see if the game engine could become a tool to add to our curriculum. We started with a walk-through of a
Unity
tutorial that taught us how its 3D worlds capability simulates gravity and other physical properties. We created a game that tasked players with rolling a ball around a rectangular space in order to collect items floating around the player. Then, a professor from the College of Staten Island showcased how she uses Unity's 2D capabilities to create remixes of the classic game Space Invaders to create study tools for undergrad students! In one iteration the game posted a word under the player's spaceship and tasked the player with firing at the correct Greek root of that word. In another, the words were switched with chemical compounds and elements and had players match them with their symbols from the periodic table of elements.
DLL focuses on teaching students computational thinking and collaboration through game making projects that focus on history and human rights, and Unity can help us do just that and on a much larger scale. It was exciting to learn about Unity's capabilities and to think about how we can use this tool with our DLL students!
​