By Daria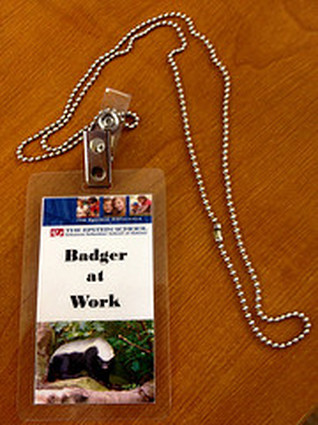 This week, GK spent a productive day visiting The Epstein Middle School School in Atlanta, where the school has implemented a badging system beginning with their sixth grade. Global Kids, along with staff at Epstein, custom designed a badging system to support the development of independent learning skills amongst the student body, funded by the Covenant Foundation.
The system is based on the recognition that learning in the 21st Century takes place not just in classrooms, but after school and through informal uses of digital media. To develop life-long learning skills, youth need to recognize how they are learning valuable skills across these venues and how to strategically navigate these sites of learning. Badge systems are designed to provide scaffolding, motivation, and recognition.
(Youth who are working on badges at Epstein can receive a power-up to miss certain classes to work on their next badge. They must wear this tag on the right to identify themselves.)
The Epstein Badging System includes a number of elements, including the badges themselves, digital transcripts, a badge management system, a badge submission process, committees, learning rubrics, back-end infrastructure, and digital portfolios.
Yesterday, Barry and I, along with the school's Instructional Coordinator, taught one of the sixth grade classes how to use Voicethread, the tool where they will be creating digital portfolios. They learned to create slides, upload and take images, and comment through text and audio. Afterwards, we spent time working with staff on the back end infrastructure to ensure that the badge management system was working properly.
We also had the chance to meet with two groups of students to conduct focus groups. The first group of students had chosen to earn badges, while the second group had not. Much was learned from chatting with the amazingly eloquent students and a full report will be put together with key findings. One of the highlights was that badges were a motivating factor for students in the school who were not generally the "honors" students; earning badges has given this group the opportunity to have their abilities recognized by their community. Many of the youth who chose to earn badges were pursuing interest-driven projects outside of their schoolwork obligations. They were also able to describe the difference between grades and badges as a form of achievement.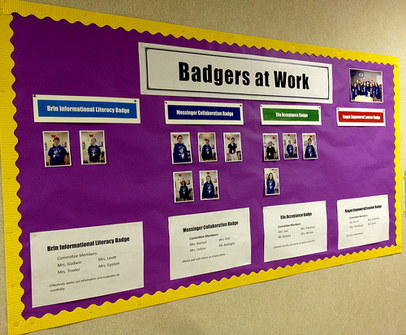 For the group of youth who have chosen not to pursue badges, all of them cited that they lacked the time to do so, with competing priorities of extracurricular activities and heavy homework loads. Interestingly enough, for this group, the connection between the activities they were already involved with and the badges they could earn were not entirely clear to them. For example, if they played a team sport, they did not make the connection that they could, in fact, earn the Collaboration badge.
We ended the day with a workshop for the faculty, where Barry gave a "big picture" on badges, including the history of digital badges and the recent
Digital Media & Learning: Badges for Lifelong Learning Competition
. Teachers asked questions about badges, many of which were around issues of credibility and credentialing, and were excited to be part of such an important and new innovation.
To view the full Flickr set, click 
here
.