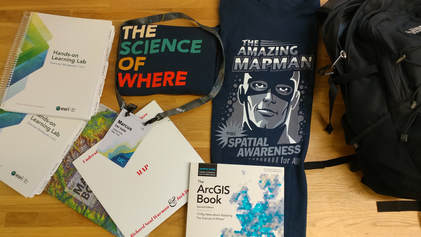 Some swag from the Esri Conference
In mid-July, thanks to the support from the
Hive Learning Network
Opportunity Fund, my Global Kids colleague, Marcus, and I participated in the
Esri (Environmental Systems Research Institute) User Conference "Applying the Science of Where" in San Diego
. Esri, which stands for Environmental Systems Research Institute, builds ArcGIS, the mapping and analytics platform used in such apps as Lyft or Pokémon Go! Several universities around the country offer both Bachelor's and Master's degrees in Geographic Information Science (GIS). Having always been interested in geography, I was surprised to find out that I had never been exposed to the field of GIS. This conference was my first chance to experience the field of GIS, and through the work that Esri is doing, GIS seemed to make the world feel much smaller and more accessible.
Marcus and I attended the Esri user conference for nonprofits and educational institutions. The latter half of the conference focused on accomplishments in the private sector. While we did not attend this later portion of the conference, we were able to see the opening speech by Jack Dangermond, Esri's founder. During the opening ceremony of the Esri conference UPS and the country Abu Dhabi were both awarded for their accomplishments using Esri.
We arrived in San Diego to find schools, other NGOs, and municipalities all sharing the work they have been doing with Esri. The variety of projects was impressive and their utilization of the Esri tools provided a great framework for future efforts to all those in attendance. Using drones, the state of North Carolina was able to map out unemployment rates in different areas of the state and then cross reference them with employment opportunities. A 4th grade school teacher was able to use Esri to teach her students about pollution and how water flows in the state of Mississippi. We also heard from a librarian how was able to archive, and make digitally available all the information from a local museum.
Globally, Esri has supported the production of apps like Geo Citizen that links service projects happening in your current location. It even supported the development of a geography focused school in Nigeria that uses Esri tools to support sustainability in the country.
One of the most interesting aspects of the conference (for me, Marcus) was how large it was and just how many different uses Esri has. Teachers and students alike, mapped out water flow to track water pollution, impoverished communities had their homeless and unemployment rates mapped out throughout the city, which was then cross referenced with job opportunities, homeless shelters and information on how to prevent further pollution in the waterway. It was awesome to see the different levels of good that a map has the possibility to do!
For me (Ahmed), the most interesting part of the conference was learning how companies were using GIS software like Esri to reduce costs and operate more efficiently, particularly seeing how UPS used the platform to reduce travel routes, saving them fuel costs and time on delivery.
We're looking forward to incorporating what we learned at the conference into our work at GK this year. We'd like to see how we can use the ArcGIS software in our programs to map out issues in communities and see how we can solve those problems. And maybe someday we can use ArcGIS software to map out the impact that Global Kids has had over the past 28 years!
By
Ahmed Ali &
Marcus De Valle